As befits a landscape that has been regularly repurposed and reimagined over millennia of dynamic human use and interaction, Eryri (or Snowdonia) is woven like a Welsh blanket with a multitude of tracks and paths. There are Neolithic ways leading to burial mounds, Roman roads past stone forts, snaking trails through coppiced woodland to abandoned mineral workings, drovers' roads over bleak moorland, old narrow-gauge railway tracks and slate paths haunted by the ghosts of miners walking home from slate quarry to slate cottage. Somehow, Traws Eryri (Trans Snowdonia), a new 140-mile (225km), mainly off-road bikepacking route from Machynlleth to Conwy across the great mountain fastness of north-east Wales, manages to follow them all.
The route, which launches on 23 August, was developed by Cycling UK, which is making a habit of creating excellent long-distance, multi-day cycling adventures. Traws Eryri follows King Alfred's Way, West Kernow Way and the Great North Trail, among others, and will be on the hot list of "must do" British exploits for two-wheeled explorers. It is distinct, though, and more of an adventure than its predecessors.
The most recent reimagining of this mountainous landscape, 30 or so years ago, saw the introduction of singletrack trails for mountain bikers through cathedral forests of Douglas fir, western red cedar and Sitka spruce. These conifer forests, much maligned by ecologists, were planted by the Forestry Commission in the early 20th century to provide a secure timber source for the nation in a time of crisis. They were planted in remote, upland locations, and they grew in austere, unwelcoming blocks – at least until a Welsh civil servant with a passion for cycling dug a track through Coed y Brenin ("King's Forest"), north of Dolgellau in 1990, filling the sepulchral plantation with the whoops and cries of youthful mountain bikers and prompting a quiet revolution in the sport that continues today.
A unique feature of Traws Eryri is that it includes sections of purpose-built mountain bike trials at several of these forest centres – Gwydyr, Dyfi, Penmachno and Coed y Brenin. This means the tempo of the ride changes frequently and dramatically: one moment you are easing along an old railway line with expansive views over distant hills, watching the sun arc lazily towards the sea, observing wildflowers in a becalmed state of mindfulness; the next, you are gripping your handlebars, skidding and sluicing down rock slabs, quivering through slivers of sunlight, and brushing past giant trees at high speed with your "reptilian brain" in full flight. It is like going from flotation therapy to a grime concert and back, with no transition.
These mountain bike centres are all on land owned by Natural Resources Wales (NRW), a body of the Welsh government responsible for managing 7% of Wales's land area. NRW, which partnered with Cycling UK to develop the route, wants visitors to experience the wider landscape beyond the forested trail centres, via sustainable means – a good aim and Eryri (it means "highlands") certainly is worth experiencing.
I have been visiting this bastion of Welsh landscape, language and music for 50 years, and Traws Eryri takes in many well-known landmarks: Cadair Idris, with its cwms and cliffs layered in myth; the glorious cyclepath along the Mawddach estuary; Tŷ Mawr Wybrnant, birthplace of William Morgan, who first translated the Bible into Welsh, in 1588; the iconic pointed peak of Tryfan, where Edmund Hillary and Tenzing Norgay trained; and the magnificent battlements of Conwy Castle, built in the 13th century by Edward I.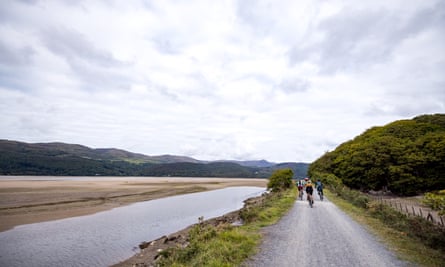 Yet the Traws Eryri somehow goes deeper into this antique landscape, exploring beyond the tourist icons. There were exceptional views over the seldom-visited, heather-coated Rhinogydd range of mountains; on the final day, we looked across the pearlescent blue Menai Straits to Ynys Môn (Anglesey); north of Blaenau Ffestiniog, we pushed up to Manod Quarry, an extraordinary former slate mining site, where pictures from the National Gallery were stored underground during the second world war; and I enjoyed the discordant experience of cycling round Trawsfynydd, a panoramic lake with a Soviet-style, decommissioned nuclear power station looming over one end. I was doing the route in four days, which still allowed time to focus on some of the smaller details in the landscape – pollarded sycamore trees beside ancient farmsteads, stone bridges over frothing brown streams, fences made of slate, improbable stone walls disappearing into cloud, pockets of native woodland clinging to hillsides, and even the level of tyre grip you get on different types of rock riding the singletrack trails at the MTB centres.
Some of these singletrack trails with their technical features can be avoided. However, if you choose to follow the intention of the creators of Traws Eryri and ride every kilometre, a hardtail mountain bike will be the steed of choice for the majority: anyone on a gravel bike will be pushing in places; hybrids and drop-handle touring bikes are not suitable. We, a group of eight, were all riding full-suspension mountain bikes – slower on tarmac, but swift over the trails – on a supported, four-day tour organised by Mountain Bike Wales. Our bags were transported daily and we followed expert guides Polly and Phill.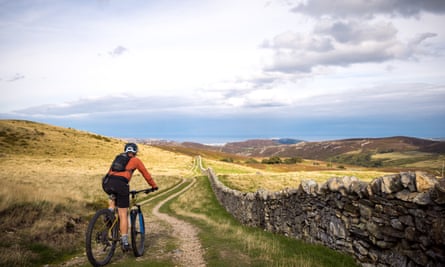 It is certainly possible to take on Traws Eryri self-supported, with light bikepacking gear: there are plenty of accommodation options in towns and villages on or just off the route (we stayed at the Pengwern, a community-owned pub with rooms in Llan Ffestiniog, and Plas y Brenin, the national outdoor centre – both excellent) and there are just enough snack bars, ice-cream shops, cafes and general stores to keep fuel in the tank for the hefty total of 5,000 metres or more of climbing.
We rode the route in May, pre-launch, and were lucky with four predominantly dry days, including long periods of sunshine. The hawthorn blossom was electric and the wildflowers were abundant – wild garlic in musty wooded hollows; purple vetch, cuckooflower and tormentil on the moors; stitchwort, bluebells and garlic mustard lighting up sod banks lining minute lanes. We heard cuckoos every day, and saw tree pipits, willow warblers and chiffchaffs in the wood pasture bordering common land, as well as choughs and peregrine falcons.
Significantly, there are no waymarkers on the Traws Eryri, though Cycling UK has produced both a downloadable GPX file and an excellent guide with maps and route-finding information. In places, navigation is complicated – following identical-looking fire trails through the conifer forests, for example, and picking the right moorland sheep tracks to reach Sychnant Pass above Conwy. Navigation issues are exacerbated further by the fact that Cycling UK is still in the process of negotiating access to certain sections of the route: the path over Garreg Fawr moor between Abergwyngregyn and Llanfairfechan, where the northern Carneddau mountains come down to the Irish Sea, a landscape dotted with bronze age remains, is not currently a right of way for cyclists. The interim route, while the access issue is resolved, follows a cycle path beside the A55.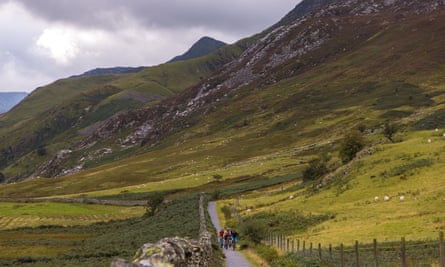 The negotiation process exposes a wider access issue – that just one-fifth of all rights of way in Wales are open to cyclists. In 2019, as part of a consortium of outdoor groups, Cycling UK extracted a bold and ambitious commitment from the Welsh government to widen off-road access rights and relax existing restrictions on open access land, not just for cyclists. Since then, the Senedd in Cardiff has been entirely silent on the matter and we are still waiting for legislation. Perhaps large numbers of cyclists riding the Traws Eryri will help bring about the change.
The route guide book and route maps are available at cyclinguk.org . Rob's trip was provided by Mountain Bike Wales. Four-day trips on the Traws Eryri from Machynlleth to Conwy with fully qualified guides, B&B accommodation including evening meals, kit transfers, full support and return back to your vehicle cost £795 a person.
Rob Penn is the author of Slow Rise: A Bread-Making Adventure is published by Penguin Books (£10.99). To support the Guardian and Observer order your copy at guardianbookshop.com. Delivery charges may apply.