1 Berlin, Germany
During the winter months, the German capital transforms into a wonderland, with more than 80 Christmas markets, festive light installations and some of the best culinary delights Germany has to offer. Alongside the traditional Charlottenburg Palace Christmas market and the ever-popular WeihnachtsZauber Gendarmenmarkt Christmas market, Berlin's take on the festive season offers something a little more modern than many other German cities. There's the Advent Eco Market at Kollwitzplatz, specifically focused on sustainable and eco-conscious Christmas consumption, and LGBTQIA+ Winterdays und Christmas Avenue, a colourful festive celebration highlighting the city's queer community. But if you're after a slice of history, take a 20-minute taxi ride to Merry Markthalle, one of the city's last remaining original market halls, transformed into a festive foodie paradise. Amid the scent of cinnamon and mulled wine, you'll find Christmas treats such as gingerbread and roasted almonds as well as gourmet cheeses and meats.
Where to stay: Waldorf Astoria Berlin
This stunning luxury hotel is located just steps away from some of Berlin's best museums and churches, the luxury boutiques on Kurfürstendamm and the department store KaDeWe. It offers up festive-themed afternoon teas and is just a 15-minute bus ride to the Charlottenburg Palace Christmas market. A favourite for couples and those seeking an indulgent weekend break, the art deco-inspired hotel is home to the Guerlain Spa, recently named Germany's best hotel spa, offering signature treatments and a wellness suite that aren't to be missed.
2 Kraków, Poland
With a picturesque old town featuring fabulous examples of renaissance, baroque and gothic architecture, the stunning Wawel Castle, and more than 140 churches, some of which date back to the 11th century, Kraków is the perfect year-round getaway destination. It's in the historic Old Town that you'll find the traditional Christmas market on Rynek Główny, the city's main square. A Christmas market has been held here since the early 14th century, making it the oldest in Poland. It sells a huge array of traditional Polish handicrafts, decorations and gifts, as well as sweets, chocolates, grilled meats, mulled wine and flavoured Polish vodkas – a local favourite for the holidays. If you're seeking a distinctly Krakówan Christmas experience, the szopki exhibition at Krzysztofory Palace is a must-see. Translated roughly to "Christmas cribs", szopki are a mix between nativity scenes and doll's houses – some made by master craftsmen who spend much of the year working on their elaborate and intricate designs.
Where to stay: Hilton Garden Inn Krakow
Located by the Vistula River, overlooking the Wawel Castle, this hotel is just a short walk from the city's Old Town, making it the perfect base for visitors who want to experience the magic and charm of Kraków in the winter months.
3 Prague, Czech Republic
For a magical festive getaway, Prague should be top of your list. The Czech capital's Old Town is one of the most beautiful in Europe and looks even better with a dusting of snow. For a traditional way to take a tour of Prague, jump on one of the city's historic wooden trams. They pass most of the major monuments and sites, including Prague Castle, the National Theatre and (good king) Wenceslas Square. It's here you'll find the city's largest Christmas market, selling traditional gifts and crafts, as well as local delicacies, including trdelník, or chimney cake, made from a baked dough topped with a sugar and walnut mix – a Czech Christmas favourite. Other specialities to try are gingerbread cookies or the traditional drink svařák (hot wine). Ice hockey and skating are a big part of Czech culture, so be sure to make a stop at the rink on Ovocný trh (fruit market) to catch a match or take to the ice yourself before taking a romantic stroll back to your hotel under the beautiful lamp lights of the historic Charles Bridge.
Where to stay: Hilton Prague Old Town
This art deco-style hotel is something of an architectural exception, sitting right in the heart of the city's Old Town, steps away from some of the best Christmas markets and directly across the street from Prague's main railway station, making it an excellent place to stay during a winter weekend away.
4 Vienna, Austria
Home to some of Europe's greatest musical and cultural achievements, Vienna is a must-visit destination for fans of art and culture during the winter months. In addition to a wealth of festive Christmas markets and beautiful historical palaces, the city's winter programme of cultural offerings is one of the best in Europe. See an advent concert in the city's 13th-century Minorite church, the renowned Vienna Boys Choir perform carols in the city's Konzerthaus, or if you're visiting over new year, the Neujahrskonzert der Wiener Philharmoniker – Vienna Philharmonic's annual concert of classical music to celebrate the new year (remember though that you do need to apply for tickets nearly a year in advance). Alternatively, visit the Wiener Staatsoper to enjoy a performance from Vienna State Opera or its ballet company in the grandest of surroundings. For something more casual, wrap up warm and take to the ice at Vienna Ice World, a huge rink in a magnificent setting in front of the City Hall.
Where to stay: Hilton Vienna Plaza
This grand art deco-style hotel sits off Ringstrasse, at the heart of Vienna's city centre, a short walk from the state opera house and Rathausplatz, the grand square in front of the City Hall. Stop here to explore the famous Christmas market or enjoy the illuminated ice rink.
5 Frankfurt, Germany
Despite being known to most as Germany's financial capital, Frankfurt's cultural highlights are not to be overlooked. During winter, the city offers visitors a whole host of festivities that encompass its rich artistic and musical history. It's also home to one of the largest Christmas markets in the country. The Frankfurt Christmas market features more than 240 stalls selling arts and crafts, decorations and traditional festive treats. The market stretches from the city centre to Romerberg Square in the historic old town. This landmark, dating back to the 15th century, has recently undergone significant renovation and redevelopment and is now referred to as New Frankfurt Old Town. Foodies should make a point of visiting Kleinmarkthalle, Frankfurt's largest food market, where you can pick up some local delicacies to take home with you – including the city's famous green sauce, made of seven different herbs: borage, chervil, cress, parsley, salad burnet, sorrel and chives. Meanwhile, arts fans should check out the programme of Christmas concerts at the Alte Oper (old opera house), or head across the River Main to the Museumsufer, the museum district with 39 museums and galleries to explore.
Where to stay: Hilton Frankfurt City Centre
In the centre of the city, just a few steps from Bockenheimer Anlage park and the Alte Oper, this hotel is ideal for those who want to be in the heart of Frankfurt's Christmas festivities and enjoy panoramic views of the city from their room. Gin lovers should try out Hudson Yards Bar & Dining. Swim lovers should head to the half-sized Olympic pool, or try out a beauty treatment.
6 Wroclaw, Poland
With a beautiful old town, charming festive traditions and one of the most celebrated food scenes in Poland, Wroclaw is an excellent choice for a winter weekend break. Often referred to as "Poland's Venice", the centre of the city is built on and around 12 islands surrounded by rivers and canals. During winter, they host a variety of festive celebrations, from ice skating to winter illuminations and traditional Christmas markets where you can sample local foods – including oscypek, a smoked cheese made in the Tatra Mountains to the south of the city. For the more adventurous, visit the toboggan run in Grabiszyński park, or if you want to move at a slightly slower pace, take a horse and carriage ride through the city's Old Town. Wroclaw is also famous for its coffee scene, so make sure to make a stop at one of the many independent coffee shops and roasters to recharge.
Where to stay: DoubleTree by Hilton Wroclaw
This thoroughly modern hotel is a great example of the city's contemporary architecture set against the backdrop of Wroclaw's historic Old Town. Just a 10-minute walk from the city centre, the Old Town market square and the National Museum, it's a great choice for visitors who want to experience Wroclaw's rich cultural offering.
7 Munich, Germany
Munich is a great choice for a festive getaway – Germany's third-largest city was recently named third in the rankings for the world's most stress-free cities and has a huge choice of festive activities. You're spoiled for choice with Christmas markets – the one on the main square dates back to the 14th century and has the backdrop of the neo-Gothic town hall. Munich also has some of the most stunning former royal Bavarian palaces and castles, including the beautiful Nymphenburg Palace, surrounded by immaculate gardens and with a frontage wider than Versailles, and the Residenz, the former royal palace of the Wittelsbach monarchs, now a museum dedicated to the city's history. Munich is also a haven for beer lovers, with some of the largest beer halls in Europe playing host to Christmas celebrations throughout late November and December. If the weather allows, enjoy ice skating on the city's Nymphenburg canal.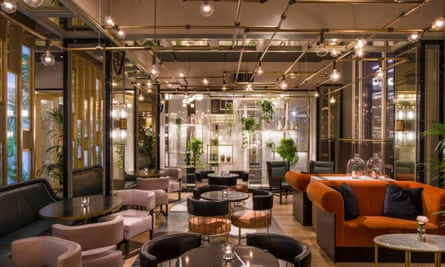 Where to stay: Hilton Munich City
In the heart of Munich, a five-minute walk from the Deutsches Museum and five minutes on the S-Bahn metro to the city's Marienplatz and old town, this recently renovated hotel is a stylish and practical place to stay for a winter visit. Its Juliet Rose bar has an extensive cocktail menu – from classics to its own creations.
Where to stay: Hampton by Hilton Munich City North
For those who would rather be a little farther out from the action, this hotel to the city's north offers comfort and quiet, within easy reach of some beautiful open green spaces, including the Englischer Garten and Olympiapark München.
8 Cologne, Germany
On the banks of the Rhine, Cologne is one of Germany's great cultural hubs. With a wealth of high gothic architecture and 12 grand Romanesque churches, winter magnifies its medieval charm. For the best view, make your way up the 533 steps to the top of the city's cathedral tower, where you'll be rewarded with unrivalled panoramic views of downtown Cologne and the Rhine. Christmas markets abound, including the Cathedral Christmas Market (Weihnachtsmarkt am Dom) and the Heinzels Wintermärchen, a market dedicated to the city's mythical Heinzelmännchen – house elves who, according to local legend, take care of locals' housework as they sleep. Sweet-toothed travellers mustn't miss the city's Chocolate Museum, featuring interactive exhibitions chronicling Cologne's chocolate-making history, with plenty of sweet treats to taste along the way.
Where to stay: Hilton Cologne
Located in the picturesque Old Town in the heart of the city, a short walk from Cologne Cathedral and its Christmas market, this family-friendly hotel's rooms and suites are the perfect place to relax and recharge after a long day exploring the city's festive fun – or you could try out the exclusive spa.