It feels strange to be cycling along a sunken path, my head at the same level as the ducks and swans swimming on the still waters of the pond beyond the walls. But Cycling Through Water, part of a biking trail in the Bokrijk forest, is another surprise on a trip to Belgium's Limburg province.
Close to the border with the Netherlands, this unspoilt area is less than two hours' drive from Brussels. Soon after picking up a car at Brussels Midi, I'm driving through luxuriant countryside passing dense woodland, cornfields and shaded lakes. With about 1,250 miles (2,000km) of paved, mostly car-free trails, Limburg is a paradise for bike enthusiasts – and easily navigable thanks to a clearly numbered junction system on its innovative cycle network. Difficult even for amateurs like me to get lost.
I check into Park Molenheide, a campsite with a small area for tents, caravans or campers and a wide selection of comfortable self-catering chalets, well spaced out under pine trees. The clientele is mainly cyclists and families (it's particularly popular with the Dutch). There's lots for children: giant indoor swimming pools, a fantasy adventure park, mini golf and fishing. For cyclists, Molenheide is a great base, with bike hire onsite.
The next day I start by hitting the path through De Wijers, a sprawling wetlands nature reserve with more than 1,000 tiny ponds and lakes. Near Zonhoven, a network of narrow paths wind past the water, and I discover a look-out tower for birdwatching. I head on through oak and fir trees and continue for another half-hour to De Plas, a long sandy beach by a tree-fringed lake, totally untouched by tourism apart from a simple bar serving ice-cold beers, chips and waffles. It's a perfect place to relax before a leisurely cycle back to camp.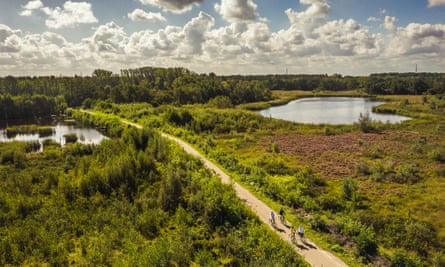 While the campsite's restaurants offer mainly comfort cuisine – big portions of moules-frites or hearty plates of pasta – I discover some great foodie locales nearby. Just off the main road leading to the town of Hasselt, Ter Dolen is a craft brewery and beer garden in the courtyard of a 16th-century castle, serving tasty plates of cheeses and charcuterie, perfectly paired with tangy Kriek ale, made from cherries grown in the area's famous fruit orchards.
A 10-minute cycle from camp is Restaurant Enfin, a surprising 20-seater dining room, where chef Benny Dreesen's small seasonal menus feature Flemish ingredients such as locally grown vegetables, venison and beef, and fresh sole and cod from the North Sea. Less than half an hour's drive away, Brasserie 't Stasjon is an old train station converted into a fun diner serving salads and burgers, rich beef carbonnade stew or delicious spareribs. 'T Stasjon is also an entrance point to the vast Hoge Kempen national park, another great option for cyclists. I chat to one, Stefano Farraci, who's taking a breather on a 50km (31 miles) ride. "My friends and I often rent a house here for a week of cycling. Limburg is very different from the rest of Flanders: few tourists, and amazing bike trails though stunning landscapes."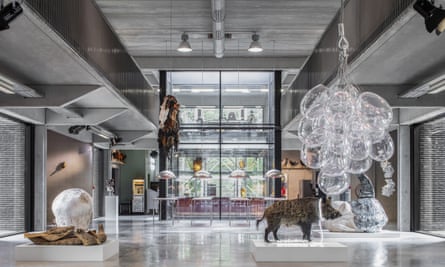 But Limburg is not just about cycling. South of the campsite towards the town of Genk – pronounced "Henk" – the bucolic scene is broken by the stark winding towers of former coalmines, soaring high above the trees. At the beginning of the last century, Limburg had a flourishing coal industry. The mines finally closed in the late 1980s, but two sites have been transformed into remarkable creative centres. C-Mine (which stands for Creative Mine), lies a couple of miles north-west of Genk. Its 60-metre towers and massive redbrick buildings have been transformed into a hybrid venue hosting artist residences, student workshops, creative start-ups, a school of contemporary art, dance, cinema and temporary exhibitions. The mine can still be visited (Tues-Sun, €10/€6), with animations, holograms and sound bringing the space to life, as can the top of the tower, for views across the countryside.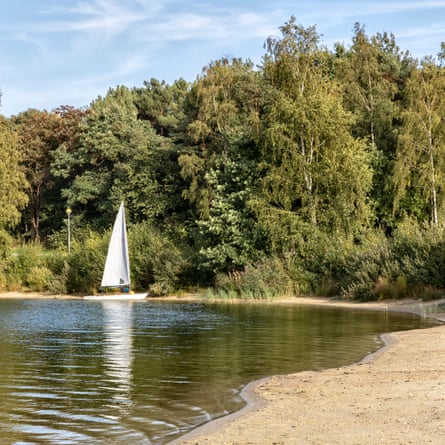 A couple of miles away is Labiomista, another artistic initiative in a former colliery. Genk's progressive mayor, Wim Dries, offered the site to controversial artist Koen Vanmechelen, who is known for projects featuring taxidermy and glass. A vast park filled with animals and 70 of his giant sculptures is open from April to November each year (Tues-Sun, €10/€6), and Koen's huge studio exhibition space is opened to the public once or twice a year. It's a weird and wonderful collection: artworks include a stuffed goat with a unicorn coming out of its forehead.
Limburg reserves a last surprise on the drive back to Brussels: a wine-tasting detour to the sleepy hamlet of Helshoven. This was traditionally a fruit growing region, but a young generation of Limburgers are planting vineyards as climate change sees winemaking spread throughout Belgium. At Domaine Helshoven, an 18th-century manor house surrounded by vines, Jeroen Houten makes tipples from chardonnay to fashionable orange wines, apple and pear bubblies and even a craft gin. There's camping and glamping on site in wine barrel-shaped cabins (from €90 a night for two). Sounds like the perfect place to stay, next time round.
The trip was provided by VisitLimburg. Two nights in a four-person bungalow at Parc Molenheide costs from €229 in September. Bike rental €15 a day or €32 for 3 days