Le Havre, France
With its location where the Seine joins the sea, the Unesco world heritage-listed site of Le Havre offers a mix of city and seascapes that should float any couple's proverbial. Watch boats bob at the scenic Bassin du Roi (the King's Basin) or head to MuMa, the Museum of Modern Art André Malraux, home to one of the country's foremost impressionist art collections. Here, you'll find artworks of seascapes and the harbour at Le Havre by the likes of Pissaro and local fauvist artist Dufy. For food lovers, there's the covered market of Les Halles Centrales and its surrounding stalls. In winter months, oysters are in season and will be very good.
Where to stay: Hilton Garden Inn Le Havre Centre
If you love being near the ocean, you'll be swept up by this chic hotel's marina-side location that's also convenient for the attractions above. Its sand-coloured wood and stone finishes blend well with the views outside, inviting you to explore the nearby beach, all the way along to Sainte-Adresse, a picturesque resort immortalised by Monet.
Frankfurt, Germany
You might be forgiven for thinking Frankfurt is all buildings and business – but it's actually surprisingly green. There are several date-worthy parks, from the restful Bethmannpark with its Asian-style buildings to Lohrberg park's skyline-at-sunset views, and the winding pathways of Frankfurt forest. Alternatively, stroll through the Museumsufer, a riverside network of museums that are free to visit on the last Saturday of the month. Check in to the historic Stadel Museum, dating from 1815, which offers up 700 years of art, including some 600 sculptures.
Where to stay: Hilton Garden Inn Frankfurt City Centre
Get off to the best of starts when staying at this hotel, which includes a free buffet breakfast. When you do set off in the morning, there's so much to choose from, including a walk along the nearby River Main or the long Berger Strasse for cafe culture and German cuisine. There's also a range of international restaurants right on the hotel's doorstep.
Milan, Italy
It's a cliche to say that Italy is made for lovers – but it's also not too far from the mark. Whether you want to get up close and personal with the stunning architecture of the Duomo di Milano (the cathedral), a place that towers above the city, or amble to canal-side aperitivo spots in the Navigli district, the romantic moments just keep coming. Check out Cinque Vie, Milan's oldest district, a haven of narrow streets and ancient architecture for all your hand-holding and gallery-perusing needs. It's also home to boutiques offering contemporary clothing, if you fancy a memento.
Where to stay: Hilton Milan
Is your ideal dinner-a-deux one where your room is just upstairs? Then check out the Hilton Milan's CotoliAmo. Named after its speciality, this restaurant offers the renowned Milanese cotoletta, or breaded veal cutlet, in a range of ways so take your pick. You'll be well located for Milan central station and can also take advantage of the hotel's sightseeing tours to get the most out of short stays. It's also a short walk away from Mercato Centrale Milano (Central Market) – a great place to nibble on some tasty local dishes or buy regional ingredients, such as saffron.
Where to stay: Grand Hotel Villa Torretta Milan Sesto, Curio Collection by Hilton
Nestled in scenic Parco Nord, this 17th-century building once belonged to Milan's most illustrious families. It offers grand design – check out the decor of the Milanese restaurant – a spa and enchanting gardens and you can explore the city and hotel's surroundings by free-to-borrow bikes.
Munich, Germany
Munich's Englischer Garten (English Garden) is full of surprises – starting with its name. Spend a few hours here discovering its Japanese tea house, the Chinese tower, and its beer garden, not to mention the Eisbach River, a popular spot for river surfing. Therme Erding – billed as the world's largest natural spa – has a range of mineral-rich waters and saunas to be enjoyed. A more upmarket experience in art nouveau surroundings is found at the Müller'sches Volksbad, a big and beautiful public swimming pool built in 1901.
Where to stay: Hilton Munich Park
Set next to the English Garden, this hotel is an urban escape with lush surroundings right by the metro. From here you can head into the city centre for attractions including the BMW museum. With an indoor pool, fitness centre, sauna and steam room, as well as a balcony with every room, some couples will find it hard to leave the hotel.
Madrid, Spain
Sometimes public places can be the most intimate: leaning your heads together in the dark, then heading to a bar to try to work out what that avant-garde theatre piece was all about. Check out La Neomudéjar, an arts space in an achingly cool and architecturally significant building, and its new sister museum that's home to a transfeminism and queer archive, Zapadores City of Arts. Meanwhile, those with a passion for dance should quickstep to Tablao Flamenco 1911, which used to be known as Villa Rosa and is believed to be the oldest flamenco bar in the world.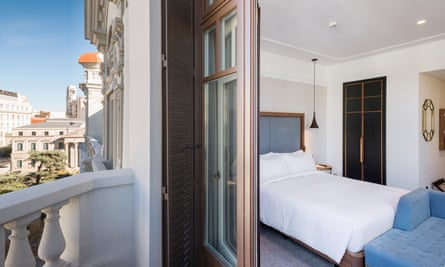 Where to stay: Atocha Hotel Madrid, Tapestry Collection by Hilton, and DoubleTree by Hilton Madrid-Prado
Those lusting after trendy luxury will find it in these two Hilton hotels. Both close to the lawns and lakes of El Parque del Retiro, they're also perfect for the golden triangle of art, comprising the Museo del Prado, Museo Thyssen-Bornemisza, and Museo Reina Sofia. Whichever venue you go for, make the most of it by honouring the pre-lunch "hour of vermouth" with a glass or two, then turning in for a siesta.
Prague, Czech Republic
This beautiful city is known for its iconic landmarks, from Prague Castle to the Charles Bridge, but there's history wherever you look, whether that's walking arm-in-arm or sitting back in a horse-drawn carriage. Wenceslas Square – more of a boulevard than a square – dates back to 1348. Once a horse market, it is now dominated by the large National Museum, home to approaching 14m items. Browse Prague Old Town's designer-maker boutiques – picking out homewares for your real or imagined place together – or float dreamily down the canal past the old mills of Kampa Island.
Where to stay: Hilton Prague
As an eminently walkable city with lots to explore, you'll be glad of a quiet, calm sanctuary at the end of the day – and you'll find one at the Hilton Prague. Overlooking the Vltava River, the spa facilities give the choice of an indoor pool, sauna, and steam room. Oh, and there are six – yes, six – bars and restaurants. One of these – the Cloud 9 Sky Bar & Lounge – gives you a view of Prague over the building tops, from a bird's perspective. For a romantic dinner date, Seasons restaurant offers up European cuisine with a Czech touch and seasonal influences.
Rotterdam, the Netherlands
How can you get from A to B and ensure everyone knows how in love you are? On a tandem, of course! Hire one and take it across the city's network of cycle lanes or around Kralingse Bos park, with its windmill, woodland and even some deer. If you're looking for some quirky photo backdrops, check out the oddly angled Cube Houses on Blaak Street. Unrelated fun fact: this is the country where gin was first made (or what you might call The Be-gin-inning).
Where to stay: Hilton Rotterdam
Fancy eating Michelin-starred food in a hotel restaurant? Well, Joelia by Mario, at the stylish Hilton Rotterdam, offers just that. Chef Mario Ridder has created a menu of French-inspired dishes, such as langoustines with caviar or scallops with white asparagus and spinach. The hotel's alternative option TIWYA leans towards Indonesian, with foliage-filled décor to match. The Hilton Rotterdam itself is surrounded by restaurants and bars, with other Michelin-starred offerings FG Food Labs and Restaurant Fred not far away.
Warsaw, Poland
For romance and Bridgerton-level promenading, a visit to Warsaw's Łazienki park is a must. This vast 17th-century park, spread over 74 hectares (183 acres), was once a country estate and, with its palace on an island and ornate bridges, it's a perfect backdrop for a romantic stroll. One of the tallest buildings in Europe, the Palace of Culture and Science is an imposing symbol of a city that thrums with places to eat, drink and watch movies. Among the palace's 3,000-plus rooms you'll find Kulturalna, a retro cafe, bar and club, which combines good food and quirky interiors, and hosts events such as silent discos. It's a short hop to the Old Town with its Unesco-listed marketplace, whose origins can be traced to the 13th century, when the city was founded.
Where to stay: Hampton by Hilton Warsaw City Centre
Get a good base for your break by staying in this hotel with its easy access to Warsaw central station, for trips to the various city districts. Aside from the Palace of Culture and Science, which is minutes away, you'll find a wealth of bars and restaurants nearby (such as the woman-owned, LGBTQ-friendly Bar Pacyfik). Start the day well with the hotel's free hot breakfast.
Where to stay: Hilton Warsaw City
In the heart of the financial district, this hotel is just a few kilometers from the Old Town and marketplace. Elevate your stay by enjoying skyline views of the city or take time out to relax in the spa with its sauna, steam room and indoor pool. If you're staying in, choose between Meza for simple, colourful food, or the Pistacchio bar for cocktails and sweet treats.