The inscription on the wooden shelter where I stopped to eat my Käsebrötchen made quite the pledge. "Wanderer," it said (at least, according to Google translate), "I protect you from wind and weather, a saviour from evil hands." Extreme? Perhaps – but you need that sort of promise when loitering with cheese rolls in these spooky parts.
A hut was first built on this spot as a rest stop for medieval donkey drivers shifting goods from the nearby town of Osterode to the mines of northern Germany's Harz Mountains. Today this newer building performs the same function, but for hikers – like me – following the Harzer Hexen-Stieg (Harz Witches' Trail).
Who could resist a path with a name like that? A name born from centuries of local folklore but on trend now, when "witch lit" is hot – top 2023 titles include Emilia Hart's Weyward and Margaret Meyer's The Witching Tide, and a movement of older women is reclaiming the word "crone". It also seemed an ideal choice for autumn: the 60-mile well-laid trail from Osterode to Thale (usually walked over four to six days) would still be fairly dry underfoot, mists would add extra atmosphere, cosy inns and hearty pork suppers would be waiting each night and ghost stories would unfold. What I found was fascinating and haunting – in unexpected ways.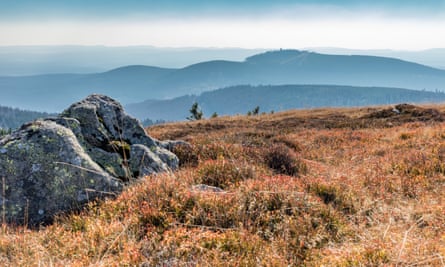 I'd left Osterode at noon, church bells chiming over the market square's buskers, butchers, florists and fishmongers. And I soon discovered that people here have leaned hard into the witching theme: pointy-hatted effigies leered from every other garden and window ledge.
But out in the countryside, it was all about ancient industry. The Upper Harz is one of the oldest and most important mining areas in Europe, worked for silver, lead and copper since the early 13th century and now a Unesco world heritage site. A total of 107 ponds, 195 miles of ditches and 19 miles of waterways were built to power the mines. The witches' trail follows some of them, crossing old dams and streams, and following channels lined with berry bushes.
My favourite remnant was in Altenau, where I stayed the first night at the Landhaus am Kunstberg guesthouse. Here, one of the ponds has become Waldschwimmbad Okerteich, a huge, forest-fringed wild swimming pool, open all day, year round, for free – and chilly. A pre-breakfast plunge, when only the wagtails were around to hear me yelp, primed me for the next day's walk.
I liked the rest of Altenau, too. Tourism began to develop here in the late 19th century, leaving a legacy of handsome villas. The main street has a bakery, brewery, model train store and shops selling witchy paraphernalia. From here the trail falls in step with the Goetheweg, the route that traces the footsteps of German writer Johann Wolfgang von Goethe, who first climbed the nearby 1,141-metre Brocken in December 1777. Over several visits, this landscape seeped into his works – not least Faust, in which the Harz's highest peak becomes the playground of revelling witches.
The Brocken is still a spooky place, for many reasons. Not only is it wreathed in mists up to 300 days of the year, it was long shrouded in secrecy, too. The East-West German border bisected this region; after the Berlin Wall went up, East German authorities closed off the Brocken's summit plateau and used its powerful communication masts to spy on western Europe. I walked past remains of the concrete barricade as well as an inscribed stone memorial marking the moment, in December 1989, when Germans got their mountain back: "Brocken Free Again!"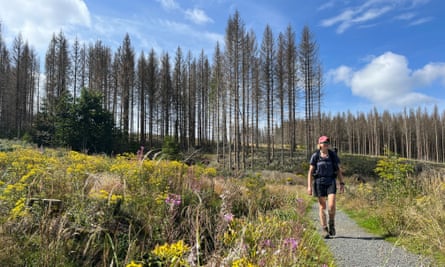 These days, the spookiest aspect of the Brocken, and the western Harz, is its forests. I wasn't prepared for the devastation that has been wreaked by the hole-boring bark beetle. In places it's a bit Halloween, hillsides blanketed in stands of skeletal spruce; elsewhere, severed stumps sit bleakly amid the groundsel and willowherb. The effects of climate crisis have left non-native spruce, planted here in monocultural swathes for centuries, increasingly susceptible to the beetles' attack.
Atop the outcrop of the Trudenstein – named for its resemblance to a Drude, a witch-like figure linked with nightmares – I met a man on holiday from Hamburg. Together we looked out across the smitten landscape. He shook his head wistfully: "The Harz was so beautiful once."
It will be again. In many areas nature is being left to repair itself, new growth sprouting among the decaying trees; some places are being actively replanted with native species such as sycamore, willow and maple. This is, declare the signs, "nature's building site". And, as I continued along the Harzer Hexen-Stieg, the way became less cursed and increasingly bewitching.
It was undeniably romantic to detour off the trail to ride the Brockenbahn train from the mountain's summit down to Schierke, where I stayed overnight, and take it back up the next morning to pick up the trail. Long sequestered behind the iron curtain, the narrow-gauge line up the mountain is barely modernised, and still hauled by steam engines. The conductor walked the aisles selling schnapps from a basket, while the loco's toots and vapours drifted over the regenerating uplands. Then, as we walked beyond the station at Drei Annen Hohne, the Harz started to show its brighter colours.
Granted, it started with a storm, otherworldly thunder rumbling inauspiciously around the hills. But beyond Rübeland, joining the Bode River, the rain stopped, the valley sides started to squeeze in and leafy green feathered the banks. Then, as if from a fairytale, Bodetaler Basecamp Lodge appeared. Once a retreat for staff of the GDR's state-run TV company, it is now a hip hostel-hotel. Its owner, Heiko Uelze, served me wild venison bolognese for supper. In my smart river-terrace room, I was serenaded to sleep by the Bode's gurgle and woke to a low fog swirling above the water.
This final section of the trail, from Bodetaler Basecamp to Treseburg and Thale was the finest of all. After walking unsteadily above the Rappbode valley on the world's longest pedestrian suspension bridge, I plunged into thick woods. Fungi flourished, leaves fluttered, rock crags rose higher and higher. Certainly there was magic here: it reached its zenith as I crossed the Devil's Bridge and walked below twin granite crags, the Rosstrappe and the Hexentanzplatz. Legend has it that Princess Brunhilde fled a giant by leaping between these outcrops on a white stallion.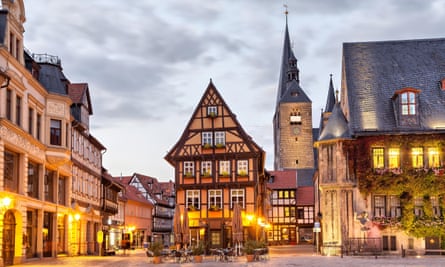 Ravine vaulting is not my speciality, and I hadn't time to ascend both, so I chose to climb the Hexentanzplatz, or Witches' Dancefloor. In centuries past it was the site of pagan rituals to honour forest goddesses. When such rituals were banned by Christian invaders, Saxons dressed as witches to scare them away. Today, it's a theme park, more kitsch than witch. But the views back down the valley, towards the Brocken, were spellbinding nonetheless.
The Harzer Hexen-Stieg finishes at Thale, below the Hexentanzplatz, but my trip ended in Quedlinburg, 15 minutes further by train – and also the end for many alleged witches. It's claimed that in 1589 as many as 133 were burned here in a single day. These days, Quedlinburg is more Disney than Grimm. It's the best-preserved medieval town in Germany, with more than 2,000 timber-framed houses leaning together in a pastel-painted huddle beneath a hilltop castle and the tomb of Germany's first king. There are fewer witches in the gift shops, more tourists in the cafes.
But perhaps this is a story less of witches' magic and more of Mother Nature's. This is a place were you can see the effects of the climate crisis, but where, with time and care, these mythical forests – so central to German culture and identity – may grow back better than before.
The trip was provided by Macs Adventure, which offers five-day and eight-day trips on the Harz Witches' Trail from £505pp B&B, including Brockenbahn tickets. The German tourist board provided train travel on Eurostar (single from £39), Brussels-Berlin Eurosleeper (single from €49), and Deutsche Bahn (single Berlin-Osterode from about €30)