Finding the perfect city break can involve lots of research, especially with youngsters in tow. But if you fancy a trip abroad, there are several great European cities that should be on your radar. The eight we've chosen offer family-friendly adventures that won't break the bank, and will keep the kids entertained.
Antwerp, Belgium
A vibrant city with plenty to see and do, Antwerp is terrific to visit with kids, whatever their tastes may be. A good starting point is the interactive museum Illusion Antwerpen, where optical and physical illusions will leave you open-mouthed in wonder – and provide lots of photo-worthy moments for the entire family. Plopsa Station, meanwhile, is an indoor theme park inhabited by comic-strip characters and superheroes, located inside Antwerp Central station and ideal for smaller children. While in the city, it's also well worth taking the kids along to try some local delicacies such as Antwerpse handjes, traditional Belgian hand-shaped cookies. Or alternatively, visit one of the many kiosks in the centre selling warm Belgian waffles and proper Belgian fries.
Where to stay: Hilton Antwerp Old Town
Nestled in the heart of Antwerp's old town, this hotel overlooks the Cathedral of Our Lady and the old town square. The Antwerp Zoo and Antwerp Central rail station are all within walking distance but if you fancy a break from exploring, you can enjoy all-day dining and drinks in the Blend 32 Kitchen & Bar, 24-hour room service, a fitness centre and a rooftop sun deck.
Berlin, Germany
Berlin has a wealth of activities for families with children. Berlin Zoo and Aquarium, located near Tiergarten park, is home to some 1,200 species from all over the world, including Asian elephants and giant pandas. If your little ones prefer to get up close and personal with animals, Görlitzer park and Mauerplatz are two delightful children's farms, while the interactive DDR museum, all about life in East Germany before the fall of the Berlin Wall, will give small people plenty of buttons to press and gadgets to play with. For a quick bite to eat, check out one of the kindercafes in the city, family-friendly places that combine play and craft areas for smaller children with fast and fresh food.
Where to stay: DoubleTree by Hilton Berlin Ku'damm
Conveniently located near Berlin Zoo, the oldest zoo in Germany, this new hotel is the perfect base from which to begin your adventures. Recharge for your trip in the on-site restaurant and stylish lounge area, before heading to the Kaiser Wilhelm memorial church, Berlin city centre, or, slightly farther afield, the Bavarian Quarter with its cafes and bookshops.
Freiburg, Germany
Freiburg's late-medieval town centre makes for a fascinating excursion, particularly when you delve into its mining history. You'll find what's believed to be the world's largest collection of minerals – more than 80,000 – in Schloss Freudenstein Castle, while kids can learn about the region's history at the Freiburg City and Mining Museum. In the north-eastern part of Freiberg is Reiche Zeche, one of the world's oldest exhibition mines. Families with children aged over six can book themselves on to a tour, which starts with a 150-metre lift ride down the shaft. For older kids, there's a longer and more interactive adventure tour.
Where to stay: Hampton by Hilton Freiburg
Located in the Güterbahnhof district, 10 minutes from central Freiburg, this hotel is a stone's throw from a number of well-liked restaurants and Freiburg-Herdern metro station. Grab a free hot breakfast before you leave for the day or spend some time in the fitness centre to alleviate any travel stress. If you're peckish during your stay, you can make use of the hotel's 24-hour snack hub.
Gdańsk, Poland
The coastal gem of Gdańsk has some of the best museums in Poland, from the Hevelianum centre, an interactive science and history museum designed for children, to an Amber Museum devoted to all things amber. It's also a great city to walk around, whether on a food tour or a visit to the Old Town. For a taste of Polish seafood, head to Tawerna Dominikańska, a riverside restaurant within sight of the Motława River. Children can eat their meal while attempting to spot the snake which lives under the floor in a glass-covered pit. The city is also blessed with numerous sandy beaches, should you want to visit earlier in the year. Brzeźno and Jelitkowo are both popular beaches with locals and tourists alike, and both benefit from having water-based activities for the little ones as well as on-duty lifeguards.
Where to stay: Hampton by Hilton Gdansk Oliwa
Start your day off in the best possible way with a free hot breakfast available to all guests. Kids can enjoy a special welcome and a dedicated kids' breakfast, as well as family-friendly amenities, which are available upon request.
Leiden, Netherlands
Leiden is known for its glorious, centuries-old architecture but it can also be a haven for families with children, especially as an alternative to the hustle and bustle of Amsterdam. Wander along the cobbled lanes and you're bound to come across one of many family-friendly attractions, including the Discovery Museum, which is all about Earth, science, technology and design. There's also the Molenmuseum de Valk, a windmill with a miller's residence that dates back to 1743, and is now a museum.
Where to stay: Hilton Garden Inn Leiden
Just steps away from Corpus Museum – with its journey through the human body – this hotel is walking distance to many of the city's main points of interest. But there's also enough to keep you occupied in the hotel, including a fitness centre, on-site restaurant, 24-hour shop, bike rental, terrace and a garden lounge with nearby children's play area including a climbing frame and trampoline, ideal for family picnics in the sun.
Paris, France
No family trip to Paris is complete without a visit to the landmark Eiffel tower – even if you or your family members just want to admire the wrought-iron lattice work from below. It was built for the World's Fair in 1889 and, at 300 metres high, it was the tallest building in the world until topped by New York's Chrysler building in 1929. Just make sure you have some space in your luggage to carry home a miniature Eiffel tower or two – your children will insist. Also check out the 23-hectare (57-acre) Jardin du Luxembourg, which Napoléon dedicated to the city's children. It has play areas with traditional swings, a zipline, pony rides, a circular pond where you can float a rented toy boat and a puppet theatre with marionettes. The city's botanic gardens, the Jardin des Plantes, also contains a small zoo where the exhibition Felines, covering everything from domestic cats to lions and tigers, runs until January 2024. The modern-art museum and Paris landmark Centre Pompidou has dedicated areas for kids aged two to 10 and a multimedia and performing-arts area for teenagers aged 13 to 16.
Where to stay: Niepce Paris Hotel, Curio Collection by Hilton
In the heart of the city's 14th distinct, and spanning a row of 19th-century townhouses, this boutique hotel is inspired by the work of French humanist photographer Janine Niépce, offering style as well as comfort. There's easy access to the city's biggest attractions, but if you fancy staying put, the hotel's La Verrière Paris restaurant has French and international cuisine using fresh, seasonal ingredients. Alternatively, Café N is excellent for light dining options, cocktails and wines.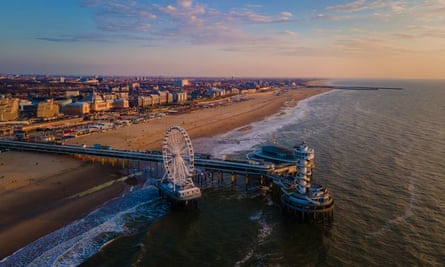 The Hague, Netherlands
The Hague is the third-largest city in the Netherlands but still manages to retain a relaxed atmosphere. Hire bikes for as little as €10 a day and take a family ride along Scheveningen Pier to Museum Beelden aan Zee, which specialises in contemporary international sculpture. Madurodam is also well worth a visit, this "city" of miniatures includes famous Dutch landmarks among its 330 scale models as well as an airport and port. If you're stopping for a bite to eat, visit the De Boomhuttenclub (the Tree House Club), which has three beautiful indoor wooden tree houses connected by rope ladders for small kids to play on while the adults tuck into coffee and snacks.
Where to stay: Hilton The Hague
Just a kilometre from Peace Palace, Noordeinde Palace and the Dutch Parliament, this hotel is handy for families wanting to explore the history of the area. But younger kids may also want to take in year-round events and activities at Scheveningen beach, which can be reached by train within 15 minutes. Once you're done for the day, try Nikkei (a mash-up of Peruvian and Japanese) cuisine on-site at the BlueBlood restaurant.
Turin, Italy
Turin is a gem in northern Italy for the whole family, with incredible museums, parks, markets and other attractions to keep everyone occupied and happy. For curious kids, the Planetarium of Turin, Museum of Astronomy and Space Science is packed with hands-on interactive exhibits, while the Egyptian Museum is a great shout for slightly older kids keen to see mummies, scrolls and other ancient artefacts. For food, Peter Pan is a fantastic child-friendly restaurant that has playrooms sorted by age group up to 12, so adults can take a breather while the little ones run around and use up some of their endless energy.
Where to stay: DoubleTree by Hilton Turin Lingotto
This intriguing hotel was once a Fiat factory, with the 1920s building eventually converted by the renowned architect Renzo Piano, who was also behind London's Shard. The rooftop test track, which featured in the film The Italian Job, is one of the hotel's highlights and can be accessed by guests for free. The hotel is also less than a mile from the National Automobile Museum, a futuristic building that houses 200 cars, including a Fiat from 1899, a 1914 Rolls-Royce Silver Ghost and racing cars by Ferrari and Alfa Romeo. When you're ready to wind down, get stuck into some traditional Italian cuisine, as well as Mediterranean favourites, any time of day at Eligo Restaurant. Adults can enjoy a leisurely cocktail or some fine Italian wine at Eligo bar.