1 Bordeaux, France
When you think of the best wine regions in the world, it's hard not to think of Bordeaux, where the first vines were planted in Roman times and which is now home to more than 7,000 wineries. At its heart is a beautiful city of the same name, with a history so steeped in wine-making that it still has wineries on its outskirts. This makes it one of the best places from which to explore a variety of vineyards without needing a vehicle, with several chateaux easily accessible by tram and bus. Up for even more of an adventure? Hire a bike and set off on one of the cycle routes that takes in several of the vineyards surrounding the city. Be sure to make a stop at the Cité du Vin, a museum and architectural marvel perched on the banks of the Garonne River that invites visitors to explore the history of winemaking across the globe. Then you can enjoy a wine tasting in its stunning wine bar, the Belvédère, with 360-degree views of the city.
Where to stay: Hilton Garden Inn Bordeaux Centre
After a night exploring Bordeaux's wine bars, relax and unwind at the Hilton Garden Inn Bordeaux Centre. On the banks of the Garonne, a short walk from Saint-Jean train station, the hotel is the perfect place to base yourself while you explore the region's many vineyards. There's all-day dining with seasonal dishes at the Babette restaurant, or in-room dining if you've had enough with exploring.
2 Franciacorta region, Italy
Just an hour east of Milan, the picturesque region of Franciacorta sits between the Unesco-listed cities of Brescia and Bergamo, jointly named Italian capital of culture 2023. It boasts a rich cultural heritage and thriving wine tradition. Over the past 30 or 40 years, Franciacorta has become one of Italy's premier wine destinations due to its production of high-quality sparkling wines made using the traditional champagne method, the metodo classico style as it's known in Italy, where the wine is fermented in the bottle. This fertile region encompasses more than 200 sq km and is home to some 100 wineries producing sparkling wines. Sparkling wines from the area were granted DOCG (Denominazione di Origine Controllata e Garantita) status in 1995, the highest classification in Italian wines, and offer an enticing alternative to French champagne. Aside from winemaking, there are plenty of outdoor activities, including golf, biking, trekking and Nordic walking. At the same time, Brescia provides a wealth of archaeological and architectural treasures to explore.
Where to stay: DoubleTree by Hilton Brescia
Located in the north of the city close to Mompiano metro station – a nine-minute metro ride from the heart of Brescia – this hotel is an ideal place to relax and unwind after a day of exploring the city and the vineyards nearby. Be sure to check out the fitness centre and seasonal outdoor pool – you might want to work off the warm DoubleTree cookie you receive on arrival!
3 Florence, Italy
With rolling hills graced by vineyards and olive groves, where cypress-lined roads lead to farmhouses and castles dotted across the landscape, Tuscany is a treasure trove of Italy's finest wineries and vineyards. From Florence, home to some of the country's finest art collections, a one-hour drive takes you to Chianti country, home to the chianti classico, originally served in straw-wrapped wine bottles. Travel farther west, and you can explore coastal vineyards and discover the allure of "Super Tuscan" wineries around Bolgheri. Here in the 1970s, winemakers started a revolution in the country's viticulture, creating exciting experimental blends that today hold IGT (Indicazione Geografica Tipica) status – a wine typical for the region they're produced in. For a tranquil escape, venture along the Montecucco wine trail, where you can avoid the well-worn tourist hotspots and plot your own course between the seven wineries that lie on the slopes of Monte Amiata. Or take a luxury guided wine tour to the striking Villa Machiavelli, stopping at scenic viewing points along the way.
Where to stay: Hilton Florence Metropole
Within easy reach of Florence airport and the city centre, Hilton Florence Metropole is a gateway between the city and the countryside, ideal for travellers who want to explore Tuscany at their own pace and in their own way. The hotel, with its whirlpool and Swedish waterfall, offers up city views from the bedrooms. You can enjoy cocktails at its indoor bar, or dine on Tuscan dishes – from Florentine T-bone steak to pappa al pomodoro (a Tuscan soup made from tomatoes, basil, garlic and bread) – at Luci della Città. Hire a car and escape to the south-west of the region to discover the rolling vineyards and wineries, or venture into the city to experience its cultural and artistic treasures, including the Uffizi Gallery, Ponte Vecchio and Piazza del Duomo.
4 Rhine valley, Germany
When it comes to Europe's best wine regions, Germany may not be at the top of your list, but in recent years, German wine has gone through something of a reinvention, abandoning its once trademark sweetness in favour of a much drier – and cooler – signature. This shift breathed new life, not just into riesling but into Germany's wine-making industries and the River Rhine region more broadly. For those looking to explore German wines in depth, set your sights on Mainz, a hidden gem in the Rhine valley known for its rich winemaking tradition. The valley is famous for its riesling wines, renowned for their elegance and floral aromas, but the area's vineyards offer a delightful array of wines that extend past what you might expect. Explore German pinots, spätburgunder (pinot noir) and grauburgunder (pinot gris) and sekt, sparkling wine that experts are expecting to have the same renaissance as riesling.
Where to stay: Hilton Mainz
With panoramic views of the River Rhine, this hotel, with its Weinstube terrace restaurant, is in the heart of Mainz, just one block away from the historic old town area. From here, you can spend days exploring local vineyards, leaving your evenings for getting to know the area's narrow lanes, cobblestone streets, beautiful squares and numerous local weinhauses. The hotel is contemporary in style and offers a wealth of dining options, from a la carte to international cuisine and regional buffets.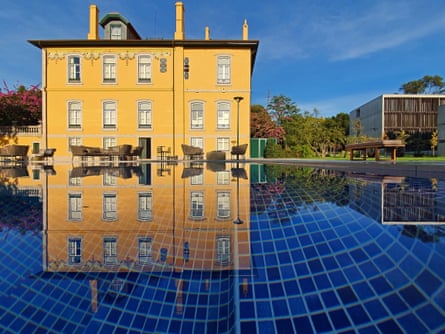 5 Porto, Portugal
The smaller and quieter sibling to Lisbon, Porto revels in the rich complexity and art of winemaking, making it a paradise for wine lovers. The Douro valley, a Unesco world heritage site, is renowned for its vineyard-covered hillsides and traditional wineries, or quintas, which have been producing full-bodied and robust port wines since before the Kingdom of Portugal was established in 1174. More recently, the city has seen significant investment in wine tourism, with £94m and five years of work put into turning more than 34,838 square metres of port wine cellars on the banks of the Douro into the World of Wine. This cultural district is home to a cluster of museums, restaurants, bars and cellars that tell the story of Porto's wine industry from its inception to present day.
Where to stay: Boeira Garden Hotel Porto Gaia, Curio Collection by Hilton
Within 15 minutes' walk of Porto's historic wine cellars, this hotel, surrounded by lush gardens, is the perfect oasis of calm to call home after a beautiful day exploring the Douro valley's numerous quintas and Porto's wine bars. The hotel's spa, with a thermal bath, sauna, steam room, and indoor and outdoor pools, is the ideal place to recover and rejuvenate. The hotel's warm decor works in harmony with its gardens and a rooftop Sky Lounge gives 360-degree views over a cocktail. Try local wines and new twists on traditional Portuguese food at Raizes restaurant.
Where to stay: Hilton Porto Gaia
If you'd rather be in the middle of the action, the Hilton Porto Gaia, housed in a refurbished wine warehouse, is a short walk from the Douro River and the World of Wine, with a hotel bar offering stunning views over the city. There are also leisure options, with a pool, steam and sauna facilities.
6 Loire valley, France
Often referred to as the Garden of France, the Loire valley is another Unesco world heritage site that boasts a rich winemaking heritage dating back centuries. Stretching from Nantes to Sancerre, this enchanting region is home to more than 1,000 vineyards that are open to the public. In the centre of the Loire valley, you'll find Tours. Surrounded by lush landscapes and vineyards, the city was once a Gallic-Roman settlement and is today a vibrant university town and the traditional gateway for exploring the region's chateaux. From here, you can tour the region by road, river or bike – with plenty of boat tours and cycling routes that take in some of the region's finest vineyards and wineries. One unmissable highlight is the Château de Chambord, a breathtaking 16th-century former royal palace that is, arguably, one of the most recognisable châteaux in the world and one of the best-maintained examples of French Renaissance architecture.
Where to stay: Hilton Garden Inn Tours Centre and Hampton by Hilton Tours Centre
A stone's throw away from the Loire River and its Pont Wilson bridge, surrounded by shops, theatres, and eateries, these hotels, each on opposite sides of Rue Nationale, on the city's Place Anatole, are ideal for travellers wanting to immerse themselves in the culture and vibrant atmosphere of Tours. Try the Babette restaurant in the former, or the Hampton lobby bar in the latter.
7 Vienna, Austria
On first inspection, the Austrian capital, home to some of the world's best classical musicians, baroque architecture and opera, may not seem like an obvious destination for wine lovers. However, venture out to Grinzing, Neustift am Walde, Stammersdorf and Jedlersdorf, and you'll discover a green and verdant landscape dotted with heurige. These Austrian wine taverns are where local producers both store and sell traditional gemischter satz – a "field blend" made from different varieties of grapes, typically a mix of grüner veltliner, riesling and weissburgunder, that are grown together across small vineyards surrounding the city. The resulting wine is a crisp dry white, with oak notes, which was granted DAC (Districtus Austriae Controllatus) classification for quality wine in 2013. It's one of Europe's lesser-known wine styles, but one not to be missed.
Where to stay: Hilton Vienna Waterfront
This newly refurbished hotel has some of the city's best views over the Danube River from its rooms and terrace restaurant, which has an international-inspired menu and broad selection of regional beers and wines. And if you're looking for some calm and relaxation, the hotel's wellbeing suite, with whirlpool bath and steam rooms, is the ideal place to recharge after a long day of exploring Vienna's heurige.