Make the trip for …
Cookham, a Thames-side village in Berkshire, was described as "a village in heaven" by the artist Stanley Spencer (1891-1959), who lived there most of his life. He is best known for his paintings of biblical events transposed to Cookham's streets, gardens and riverbanks. Today the village houses the Stanley Spencer Gallery, a converted Methodist chapel run entirely by volunteers. The gallery opened in 1962 and was refurbished in 2007, with a mezzanine floor added to show more of the 100-odd works in the collection. Two exhibitions are staged every year. The summer show, A Brush with History: Stanley Spencer and Modern British Art, runs until 5 November. The winter exhibition, Everywhere is Heaven: Stanley Spencer and Robert Wagner, begins on 9 November and is the gallery's first collaboration with a living artist. As well as paintings and drawings, the museum contains memorabilia such as Spencer's pram, which the eccentric artist used to push his canvas and easel around the village – wearing his pyjamas under his suit if it was cold.
£7 adults/£3.50 age 18-25/under-18s free, daily until 5 November, Thursday to Sunday only from 9 November to 24 March
Visitors can book a guided walk around Cookham to see where Spencer lived and painted. Sights include his birthplace Fernlea, a house built by his grandfather (its garden inspired the lovely tulip-sharing painting Neighbours); the street where Sarah Tubb and the Heavenly Visitors is set; Holy Trinity churchyard, where he painted The Angel; the Thames, scene of works such as View from Cookham Bridge; and the war memorial (Stanley's elder brother Sydney was killed in the last few months of the first world war, and he painted the memorial's unveiling).
£10pp for the walk, £15 including gallery entry, email groups@stanleyspencer.org.uk
Less than an hour's drive away is the moving Sandham Memorial Chapel in Burghclere, near Newbury in Hampshire. It houses 19 large-scale oil paintings by Spencer covering three walls, which took him six years to complete. They depict the everyday life of the "forgotten dead" of the first world war, inspired by Spencer's experiences as a medical orderly and a soldier in Macedonia. His younger brother, the artist Gilbert Spencer, also served, and both were official war artists in the second world war.
£9 adults/£4.50 children/free for National Trust members, open Thursday to Sunday until 12 November, reopens in March
For Spencer super fans, other galleries with substantial collections include Tate Britain and the Imperial War Museum in London – the latter has several paintings from his Shipbuilding on the Clyde series; the Fitzwilliam Museum in Cambridge, the Leeds Art Gallery and the Southampton City Art Gallery; and the Art Gallery of Western Australia in Perth. The full list of galleries worldwide is at stanleyspencer.org.uk.
What now?
The John Lewis heritage centre in Cookham has displays from its 30,000-piece textile collection, dating back to 1799. There are samples in paper and fabric from designers such as William Morris, Charles Voysey and Lucienne Day (free, open Saturdays).
Nearby Cliveden, the former home of Nancy Astor, the first woman seated as an MP (1919-1945), is now a luxury hotel, but the sculpture-filled gardens and woodland are still open daily; curiosities include the ancient Egyptian baboons. There are also guided tours of the house's opulent rooms three times a week; visitors are regaled with tales of the Astor family and their illustrious guests such as George Bernard Shaw and Amy Johnson.
£17 adults/£8.50 children/under-fives and National Trust members free, plus £2 for the house tour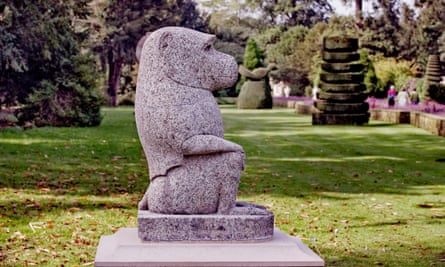 The Stanley Spencer Gallery sells prints and the Little Bookshop is an independent on the High Street. Neighbouring Cookham Dean has a Metre Market every Friday, selling artisan food and drink, and plus gifts such as artworks, candles, jewellery, bags and soaps. There is a Christmas Market in Cookham on 26 November.
When to go
Winter is good, with plenty to do and quiet streets, but other events are worth putting in the diary. The Cookham festival is held every other May, featuring art exhibitions, workshops, talks and artists' open studios, plus live music, theatre and comedy. Derek Bond, the festival's chairman, describes it as "a celebration of the arts in its widest sense, with events from poetry to pottery, Shakespeare to Strictly Cookham dancing classes and Bach to boogie." The festival includes a sculpture garden at the Odney Club – a good chance to snoop around a private members' club with 53 hectares (130 acres) of grounds.
Next festival 4-19 May 2024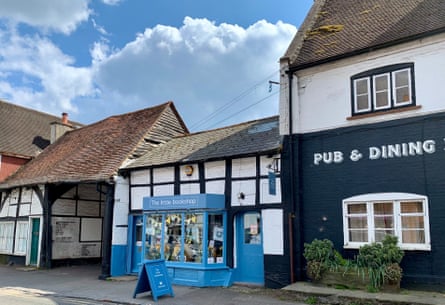 In the third week of July, Cookham is one of spots along the Thames where the ancient Swan Upping ceremony takes place – the king's swan marker counts all cygnets, weighs, measures and checks them for injury, and assigns ownership. Spencer's painting depicting the practice is owned by the Tate.
The Cookham Regatta takes place in early September, with dragon boat racing and other contests, plus bands, a dog show and children's activities. Spencer's unfinished Christ Preaching at Cookham Regatta, his last major work, is on long-term loan to the Stanley Spencer Gallery.
Get outside
There is a lovely riverside walk from Cookham station to Marlow station (5.5 miles), or all the way to Henley (13 miles), passing landmarks such as Winter Hill. Kenneth Grahame lived with his grandmother in Cookham Dean, and The Wind in the Willows was inspired by this stretch of river.
Drinks and dinner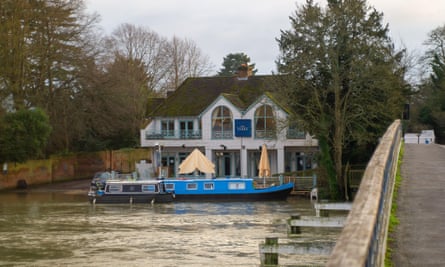 Cookham is well served with pubs, including the Ferry, where Christ Preaching … is set, and the Crown, which has been recently refurbished and now displays framed prints of many of Spencer's best-known paintings. The ramshackle Bounty, at nearby Bourne End, is a local institution and a welcome stop on the walk to Marlow.
There is a lively restaurant scene, too, including Indian, Chinese and Thai options. The White Oak serves seasonal food such as ricotta gnudi with butternut squash, pumpkin seed pesto, crispy sage and black garlic pesto (£16.50), or hake with jerusalem artichokes, samphire and green sauce (£24). For even higher-end dining, it is about a 10-minute drive to the foodie mecca of Bray, home to Heston Blumenthal's Fat Duck and Alain Roux's Waterside Inn.
Stay
Bel & the Dragon (doubles from £139 B&B) in Cookham is a 600-year-old coaching inn; its 10 modern bedrooms are stocked with free sloe gin and single malt. Hurley House hotel (doubles from £190 B&B), a short drive away, was tastefully remodelled a few years ago, incorporating flagstone floors, woodburning stoves and a Japanese restaurant. There are 10 rooms, some with rolltop baths and private patios.
Getting there
Cookham is on a branch line between Marlow (about 15 minutes) and Maidenhead (10 minutes). From Maidenhead, it is 15 minutes to Reading and 25 minutes to London Paddington on the fastest trains.