These days, seating options on flights — and the related fees — can get confusing quickly. While Alaska Airlines offers its share of seating options, the airline makes it easy for flyers to view open seats before booking and select the seats they want while booking.
Here's what you need to know about selecting a seat on Alaska Airlines, including which seats you can book and when you may need to pay extra for specific seats.
How Alaska seat selection works
The Alaska Airlines seat selection process is similar to other large U.S.-based airlines, like United and Delta, where you can view open seats before booking, then select your seat at booking or after paying for your flight.
The exact seat you may select on Alaska Airlines depends on several factors, including the fare class and whether you have elite status with Alaska or Oneworld alliance.
Alaska seat selection fees
Seat selection fees vary based on the fare class purchased, your desired seat and class of service and whether you have elite status with Alaska or Oneworld alliance. Here are a few things to keep in mind when booking your flight:
Saver class. If you book a Saver class fare, seats are assigned at check-in. If you'd like to pick a specific seat, even as an Alaska or Oneworld elite, you'll need to pay extra.

Non-elite flyers. If you don't have status with Alaska or Oneworld and you book fares other than Saver class, you'll have the option to select seats in the main cabin for free — or pay extra for preferred or premium seats, such as an exit row or in Alaska's premium class.

Elite flyers. If you're an Alaska or Oneworld elite member flying on a non-Saver fare, you'll have the option to book any open seat in the main cabin free of charge, including seats in preferred rows that are available only to Alaska and Oneworld elites. As an elite status holder, you'll also have the chance to be upgraded to premium class or first class for free if space is available. However, if you book a main class fare and want to be confirmed in a premium class or first class seat right away, you'll need to pay extra for the upgrade.
If you need to pay for a seat, the cost will vary based on flight and route.
Ticket types and seat selection rules
Alaska's Saver fare — the airline's version of basic economy — is the only ticket type that comes with restrictions on choosing seats. With Saver fares, even if you're an elite member, the only way to book a seat in advance is to pay for one.
With all other ticket types, including main cabin, premium class and first class, you can select a seat at booking for free.
Alaska seats for elite members
In addition to providing opportunities for upgrades, Alaska reserves certain rows for Alaska and Oneworld elite members.
For the flight below, booked by a non-elite member, you'll see that rows 10 through 15 aren't available and are labeled as "Alaska and Oneworld elites," meaning non-elite members can't book them.
Not only do elite members have access to preferred seating, but both Alaska and American Airlines' elite members can also have their seats upgraded to first or premium class.
Depending on the fare class you've booked, these upgrades will either be confirmed at booking or, if seats are available, at a specified time before departure.
Alaska plane seating chart
You don't need to purchase a ticket before seeing the seating chart for an Alaska flight, which can be especially helpful if you prefer a certain type of seat, such as an exit row, a seat toward the front of the plane or a window seat.
To see the Alaska plane seating chart, visit Alaska's website and input your flight search parameters. Below is an example from the results page for a flight from Los Angeles to Seattle: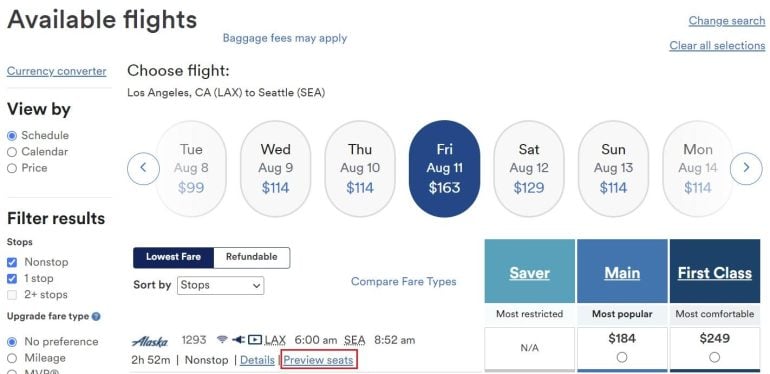 Clicking the "Preview seats" link will show the current seating chart. The seats in gray are occupied, while all other colors indicate an available seat.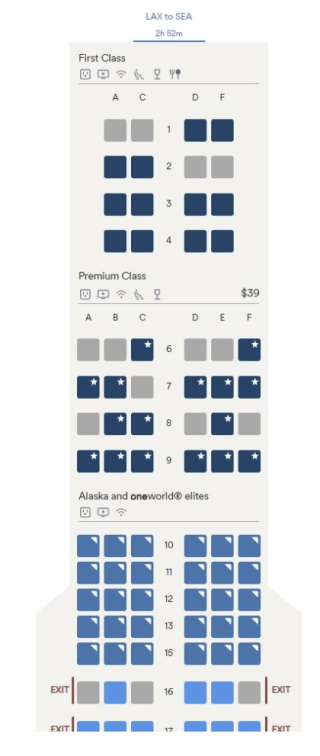 You'll also be able to view seats during the booking process. You may even be given an opportunity to upgrade your seat to premium or first class. In the Los Angeles to Seattle example, the offer to upgrade to first class costs $65, while a premium class upgrade starts at $39.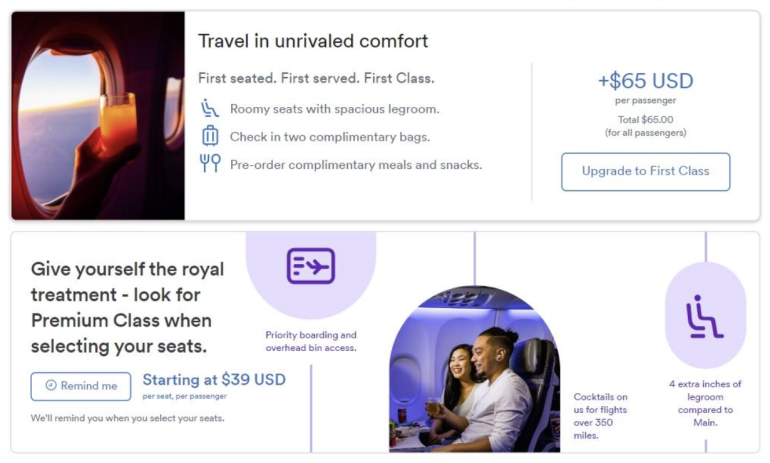 How to pick seats on Alaska
You can see which Alaska seats are still available before booking, but if you want to confirm a specific seat you'll need to select it during the booking process or after buying your ticket.
During booking
We recommend selecting your seat during booking. The longer you wait to select a seat, the fewer options will be available since others are also booking tickets and choosing their seats.
During the booking process, after inputting your personal details, a seating chart will pop up that shows which seats are available. The chart will also display the price for any seating upgrades you might wish to purchase.
In our example flight to Seattle, premium class seats start at $39 and exit row seats will run you $35. Otherwise, a main cabin seat is free to select.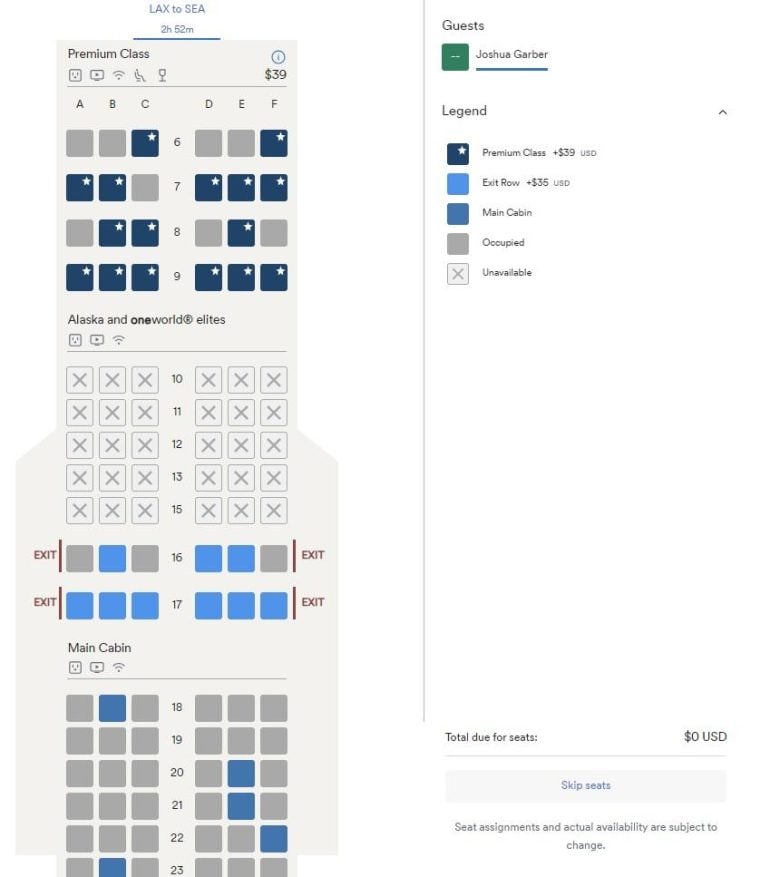 To select your seat, click or tap an unoccupied seat and choose "Save and purchase." Note that you must click or tap "Save and purchase" even if your seat selection is free.
After booking
If you decided not to pick a seat during booking or you'd like to change your seat after making a reservation, you'll want to navigate to your reservation on the Alaska website or in the airline's app.
On the app, after finding your reservation, select the "Seats" icon to pick or change a seat for your flight.
Alaska Airlines seat selection recapped
Alaska Airlines has a straightforward process for viewing and picking seats and, unless you've booked a Saver fare, you can select a main cabin seat for free.
Whenever possible, we recommend selecting your seat at booking, as you'll likely have more options than if you wait. If you fly Alaska Airlines often, it may be worth trying to get elite status so you have complimentary access to preferred seats and upgrades.
(Top photo courtesy of Alaska Airlines)
How to maximize your rewards
You want a travel credit card that prioritizes what's important to you. Here are our picks for the best travel credit cards of 2023, including those best for: